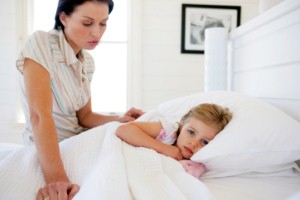 If your child has recently been diagnosed with asthma, you may be wondering how this condition will affect his health and development. As a dad, you want to ensure that your little one is healthy and happy by creating a home safe environment that will reduce the chances of an asthma attack. These concerns may be coupled with some confusion about the nature of your child's condition and effective treatments. While the specific details vary from person to person, asthma is a fairly common and manageable condition.
According to the Centers for Disease Control, nearly 7 million or 9.4 percent of children in the U.S. currently suffer from asthma (2010). This chronic lung disease causes difficulty in breathing due to inflamed airways and increased sensitivity to irritants like smoke, allergens or exercise. Anyone from small children to grown adults can develop asthma with symptoms ranging from shortness of breath, coughing, wheezing and high levels of mucus. Asthma attacks can strike at any time and with varying degrees of severity.
For fathers of children suffering from asthma, the best course of action is to reduce your child's exposure to harmful triggers and create a safe home environment. You also want to ensure that your child can enjoy a normal quality of life while being able to participate in healthy sports and physical activities.
Begin by making sure that your home is as clean and dust-free as possible for improved indoor air quality. Checking vents, windows and doors for proper air circulation will also help eliminate irritants caused by pet dander and pollen. You can also invest in hypoallergenic bedding to prevent nighttime attacks. Often, changes in the weather can have a negative effect on asthma sufferers, so you may want to limit their exposure to cold weather during the winter or keep a dehumidifier handy during the hot summer months.
As triggers can vary, consult with your doctor regarding your child's best treatment and keep a record of past asthma attacks and possible causes.