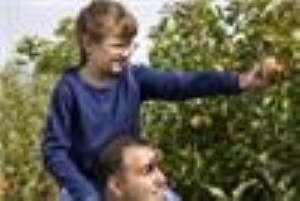 Many parents across the country think summer is the only time to load up on locally-grown, fresh fruits and vegetables. But autumn offers an array of seasonal local produce at farm stands and grocery stores as well.
Farm stands aren't just out in the country anymore. Big cities often have several markets where local farmers can sell their harvests. It's a great way to support your local economy while getting fresher products and saving money.
Can't find a farm stand? Grocery stores across the country feature locally-grown produce as well.
Walmart recently made a commitment to local produce by featuring harvests from local growers. The retail giant will purchase more than $430 million in locally grown produce from across the U.S. this year.
That means a lot of potential savings for fathers. During the month of October, Walmart stores around the country will feature local apples at low prices, ranging in price from $1 per pound to $1.98 per pound.
In addition, customers will be able to easily identify locally grown fruits and vegetables through signs that include official state-grown marks, indicating approval by their state's agriculture department.
So if you don't already, try buying local. You'll get fresher products, support local farmers and save money at the same time. It's a great bit of parenting advice!