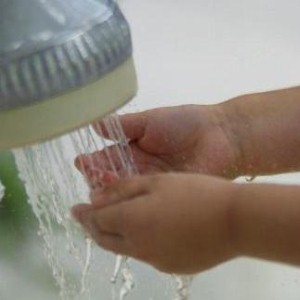 Recent findings from the American Society for Microbiology and the American Cleaning Institute (ACI) indicate that the message about frequent hand-washing is starting to register with Americans.
The groups, who observe hand-washing in public restrooms and conduct phone interviews on the subject, found that between 85 percent and 96 percent of adults wash their hands in public restrooms. Officials say these are the highest percentages they've seen since they've started tracking habits.
"Between Mom's common sense advice and the recent pandemic scare, people now seem to realize the importance of when and how you wash your hands," said ACI vice president of consumer education, Nancy Bock.
Experts say fathers can model and teach their kids how and when to wash their hands.
KidsHealth.org reminds dads that good hand-washing is the first line of defense against the spread of many illnesses, from the common cold to more serious illnesses such as meningitis, bronchiolitis, influenza, hepatitis A, and most types of infectious diarrhea.
There are many techniques for teaching kids the right way to wash their hands. The best parenting advice is to encourage them to wash with warm water, using soap and lathering for about 20 seconds before rinsing and drying. Some experts say encouraging kids to sing "Happy Birthday" or recite the ABCs while scrubbing can help.
Family members should wash up before eating or cooking, after using the bathroom or changing diapers, after touching animals, after playing and after sneezing or coughing.
Using antibacterial soap isn't necessary, but when there's not a sink available, antibacterial wipes or gels can be substituted for old-fashioned hand-washing.