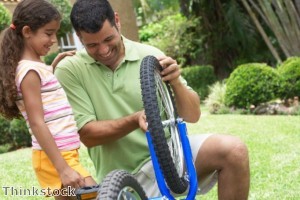 A recent survey of teenagers done by financial company Capital One found that 53 percent of teens want to learn more about how to manage their money. Unfortunately, many fathers are not teaching their kids the basics about budgeting, saving and credit – and are unknowingly setting their kids up for financial failures.
Last Thursday was designated National Money Night Talk, a night designated for fathers and mothers to have "the talk" (the one about money) with their kids, aged 12 to 20.
Fathers who missed the official night may want to consider designating another night, sooner rather than later, to talk to their kids about money.
The website MoneyNightTalk.com explains how parents can start a financial conversation with their children and what topics to discuss. It features parenting advice on talking about money from personal finance author, columnist and TV commentator Jean Chatzky.
Chatzky gives dads examples of questions, based on how old the children are (in middle school, high school or college)and other talking points to get the conversation started and keep it going. For instance, she suggests dads with middle school-aged kids start by saying something like, "How much do you think it costs each month to pay our bills?"
Experts say it's important that parents are open to answering questions about money, spending and saving. It's also important for kids to know that the conversation should be an on-going one and that you'll continue to talk about finances together.