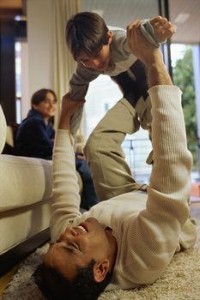 If you're a father who recently went through a divorce, you're probably thinking about the uncertain times that lie ahead for your family. Even sharing custody of your children with your ex-wife will likely leave you with long gaps of being without your little ones. While it's true that your family life will be very different from this point, there's no reason that you can't continue being an awesome dad to your kids. After all, nobody gets into parenthood because it's easy, and this is no exception.
In the meantime, here are three things to remember.
Stay involved in extracurricular activities
While the time your children spend with you may be limited to weekends or visits every other week, that doesn't mean that you can't schedule other hangout times. As your children grow up, they'll likely be involved in all sorts of extracurricular activities like school plays, baseball, dancing classes, karate, lacrosse, musical performances and more. Whatever your kids are involved with, make sure you're always there in the audience or on the sidelines to cheer them on.
Turn off the television
When your kids do come over to visit, try not to spend your time with passive activities like watching TV. You only have limited time together, so make it count. Treat their visits like mini-vacations whenever you can and plan fun daytrips together. A simple afternoon at the museum or day fishing at a nearby pond can become memories your kids cherish forever.
Keep your promises
When you tell your children that you'll be there for a birthday party or to pick them up after school, mean it. By being a dad they can rely on, you'll remain an active part of your children's lives – even if it's only in short bursts. Too many divorced fathers fade into obscurity, so counter this stereotype by making sure your time remains dedicated to being there for your little ones. If you ever have to break a promise, see that you make up for it in spades.