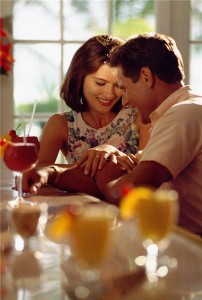 It can seem like it takes up your entire focus at the time, but there is life beyond the divorce process. While you're still a great father to your children, you're now also a single man who can take his personal life in a variety of directions. Some men in this position are fine with taking a break from romantic relationships, but you may be interested in testing the waters after an appropriate amount of time has lapsed post-divorce. However, dating as a single dad isn't exactly the same as it was before you met your ex-wife and had children.
While you don't exactly need your kids' permission to begin dating again, it's important that you involve them in the decision process. Despite how adjusted they may have become to splitting time between you and their mom, the prospect of dad on a date can seem like a whole new issue. Have a conversation with your little ones explaining your feelings about the issue and answering any of their questions or concerns. In particular, assure them that you'll never try to replace their mom with a new woman.
Now that you're dating again, you should consider what you're looking for out of the whole process. Are you just trying to have some fun and meet new people? Do you want a casual dating partner? Do you eventually want to get remarried? These are all important questions you need to ask yourself, even if you don't have the answers right away.
As you approach potential romantic interests, you should be upfront about your status as a single dad. This doesn't mean that you need to open every conversation that way, but if you have any intention of moving past drinks in a bar or a dinner date, you'll need to spill the beans eventually. However, you can also assure women that you're not looking for a new mother for your children – you just want to get back out there for yourself.