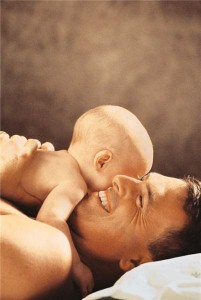 Sure, being a dad means sometimes you have to forgo the game in order to have a tea party with your daughter, and that can definitely make you feel a little less virile. But does becoming a dad actually change your physiological makeup? New research suggests that it might – because men's testosterone levels actually drop once their kids are born.
According to the authors of a study published in Proceedings of the National Academy of Sciences, men who are fathers have less testosterone than their childless counterparts. The researchers studied young Filipino men, and found that their levels of the hormone fell 30 percent after they became fathers, nearly twice as much as childless men over the same period.
Okay, so becoming a dad makes your hormones settle down. Is that a problem? Not at all, say the researchers. In fact, it's evidence that while you certainly evolved to hunt and kill and be manly, you're also designed to be a loving husband and a caring, nurturing father.
Doesn't it feel great to know you're built to do it all?