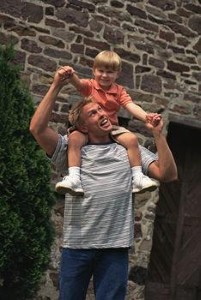 A film exploring the challenges confronting gay fathers has been named one of the five best documentaries of 2008 by the Canadian Film and Television Production Association.
Fatherhood Dreams showcases gay men who are becoming fathers through adoption, co-parenting and surrogacy.
One dad, Steve, shares parenting duties with lesbian mothers Coreen and Wendy. Meanwhile, Scott is expecting twins with a surrogate mother, while Randy and Drew are planning to adopt a baby.
Prospective fathers who are considering any of these options may be interested in viewing the film, while others may simply be interested in learning more about an alternative view of fatherhood.
Fatherhood Dreams has already been screened at a number of film festivals across the world and a director's cut DVD may be ordered online.
Commenting on the CFTPA honor, director and executive producer Julia Ivanova said, "We're thrilled to be nominated. It's a wonderful acknowledgment of the importance of getting gay parenthood stories out into the public sphere."
Gay fatherhood has been the subject of a number of headline stories over the past year. For example, last year singer Clay Aiken chose to use the birth of his son as an opportunity to announce his homosexuality to the public.