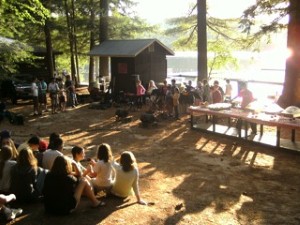 While your last summer vacation may have been decades ago, chances are your kids can barely contain their excitement about the next three months of no more teachers and no more books. However, these days, it's all too easy for little ones to squander the beautiful sunshine and warm weather indoors glued to the couch watching cartoons, playing video games or fooling around on the internet. As their father, it's your responsibility to get your children out of the house to make the most of their summer vacation. Here are three ways to keep your kids busy over break.
Summer camp
Singing songs around the campfire, exploring forests and learning about arts and crafts are just three reasons that a summer vacation spent at camp is the perfect opportunity for your young ones. Not only will this expand their social circles, but they'll make memories and learn skills that will stick with them the rest of their lives.
Community sports
If you have a budding athlete or two in your home, considering signing them up for a community sports league. Whether it's baseball, basketball, football or soccer, this is a great way to make exercise a part of their daily routine while also imparting the fundamentals of teamwork and friendly competition – important social developments.
Summer reading
It's nice to stay busy during the summer, but that doesn't mean you have to be sweating under the hot sun. Many schools require students participate in summer reading programs to keep their minds active out of the classroom. Encourage your little ones to read and even join in with them for a relaxing afternoon on the backyard porch.