What new moms can do to get new dads to interact more with a new baby: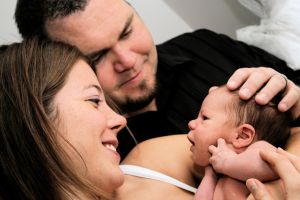 Appeal to his gadget side

: Babies are an excuse to buy lots of gadgets, like cameras, videocams, and baby monitors. This is the only time in life that a man's wife will tell him to go to the store and buy a bunch of electronic stuff…for the good of the family.

Explain the importance of the first two years of development

: Babies need lots of love and physical attention to aid in their development. The best thing a dad can do is interact with a baby to maximize development, especially during the crucial first two years. This is a responsibility of being a great dad along with changing diapers and mixing formula.

Tell him how sexy he looks when pushing a stroller

: New dads are sexy. Mom certainly doesnt want to lose a new dad to women on the street who think he looks hot wearing that Baby Bjorn, but what guy doesn't like getting extra attention, even if it's because he has a baby strapped to his belly. Also, everyone on the street knows what new dad stud did to get that baby. Babies are like bright red sports cars – they do get noticed.

Get him to live in the moment

: Babies are only babies once, and every day they change. You don't want to have missed crucial parts of their development that can never be repeated.

Alleviate his guilt for not feeling the way mom does

: Dads shouldn't feel guilty that they don't feel the same emotional bond that moms do during the first few years. This all changes when the baby starts to walk and talk. Some dads need to know this is okay.

Give him a break

: Let him know that he's doing a lot, even if you are conflicted about how much more he could do. Dads like to feel appreciated and many have a secret worry, often very realistic, that they will never be your top concern again.

Praise all of his efforts to do the stuff that comes naturally to you

: Tell him he so naturally holds the baby. Let him be the first to change a diaper so he can say that over and over again. Let him be an expert on bottle washing and formula prep. The more you do and say to make dad feel that he has a natural role, the more he'll do. The more you laugh at his ineptness or confusion, the more you'll push him away from helping you.

Get counseling

: A new baby is one of the most stressful events on a marriage, perhaps more so because it is thought of as the most binding. If you sense stresses on your marriage, get help earlier than later. Open communication is one of the most important things you can do to keep dad involved.
Dads don't always think like moms, and moms and dads parent in different ways. Make sure to trust and treasure the different roles of both parents in your new family.