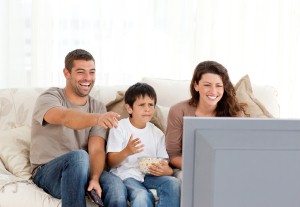 Autumn means the start of many things – back to school for the kids, warmer clothing, colorful foliage and the start of the new fall TV lineup. This season, it seems that many television networks are taking a fresh look at how modern society is redefining the traditional family structure. Here are a few of the coolest sitcoms airing for you and your family to enjoy this year.
Modern Family
Debuting in 2009, ABC's Modern Family has won numerous awards and brought new energy to the standard sitcom formula. Filmed by an unseen documentary crew, the show focuses on parents Claire and Phil Dunphy, who have three growing children, Claire's brother Mitchell and his partner Cameron, who adopt a little Vietnamese girl, and patriarch Jay and his second wife Gloria, who is from Colombia and already has a 12-year-old son Manny.
Up All Night
Formerly hip couple Reagan and Chris Brinkley discover how much having a new baby can change your life in NBC's hit sitcom Up All Night. Trying to reconcile their past glory days with the challenges of being new parents, Reagan is the primary breadwinner as a TV exec while Chris is a stay-at-home dad.
Guys With Kids
NBC introduces a new take on the traditional father figure with Guys With Kids, a sitcom that goes to show that not all dads are lazy, bumbling goofs. Produced by Jimmy Fallon, the show follows best friends Chris, Nick and Gary as they navigate the unexplored territory of being a guy's guy and a parent all at once.