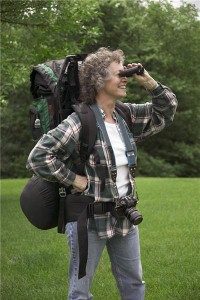 Nature provides almost unlimited opportunities for father and son bonding , with the best excursions able to combine parenting skills with athletic skills.
Indiana dad Mike Sutton told the Post-Tribune about a special trip he took with his 21-year-old son, Tyler, which was part of a study on fathers and sons.
The pair spent seven days backpacking in Rocky Mountain National Park and climbed a 12,500-foot mountain to top off the journey.
Sutton explained that a group of men decided to take part in the experience as part of an effort "to look for significant opportunities to get together with their sons" – good parenting advice for any dad, but especially those who like exploring the great outdoors.
A 2007 TiVo survey found that spending time outdoors is a favorite activity of many dads, with 26 percent of respondents naming it as their preferred way to pass time.
Meanwhile, sons – particularly in their teenage years – may need a little encouragement to get them to enjoy nature.
A Pacific Forest and Watershed Lands Stewardship Council poll indicates that although 70 percent of Californian parents said their children had good access to outside activities, 60 percent reported that their kids' interest in spending time outside was declining.