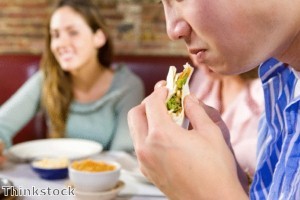 A recent study has found that the feeling many fathers have about being eaten out of house and home by their teenage sons is much more than just a feeling.
Researchers with the U.S. National Institute of Child Health and Human Development recently conducted a study that compared the eating habits of teenage boys to teenage girls. They found that boys between the ages of 8 and 17 overall eat more than girls during each stage of puberty, according to Reuters.
Just how much do teenage boys eat? Researchers say boys between the ages of 14 and 17 years old can eat an average of 2,000 calories at lunch alone! Overall, experts say active teenage boys require about 2,800 calories each day.
So how can dads keep up with their sons' insatiable appetites during the teen years? The best parenting advice is to stock the house with healthy, convenient snack options that will help fill these growing boys up without adding empty calories to their diets.
Good snack choices include a bowl of whole grain cereal with low fat milk, a sandwich made with lean meat, fresh fruits and vegetables, dips such as spinach dip or hummus, trail mix and dairy products such as cheese or yogurt.
Fathers can also discuss the teenage diet with their child's pediatrician in order to ensure he is getting enough calories but not too much, since each kid's need are different.