James Briggs is the author of "The Baby" (Published by Beautiful Books).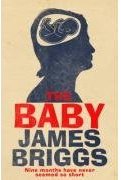 He talks about his experiences:


What is the one thing you think parents should know about your work?

My book presents a purely male view of pregnancy and the fears that the father-to-be dare not reveal to his partner. It may not be appreciated by all women, but it should explain why the father of your child dare not open his mouth in the maternity ward!
What are your feelings about the role of the father in child development?

Like everyone else, you are going to make mistakes. Listen to others, but be yourself and believe that you are good enough.
What is the best thing dads can do in the raising of their children?
Why am I tempted to say keep out of the way?! Seriously, share your passions with them and try to share some of theirs.
What is the biggest error dads can make in raising their children?
Over-compensating for the mistakes your father made with you by trying to reverse out all of his faults. Think instead of the qualities you have inherited from your own parents.
It's been said that the greatest regret aging men have is that they didn't spend more time with their kids. How do you feel about that statement?

Quality is far more important than quantity. When you are with them, give them what they want, which is your full attention. If you can't do that, you are better off doing something else and creating a space for them to play and use their own imagination.
Every generation worries that their kids aren't strong enough to handle the real world. Do you feel kids need to be "toughened up" by experiencing rough times?

No one is born and brought up in Disneyland, so this is going to happen sooner or later. Try to help them with the tools they will need to cope, rather than shielding them from the real world. Communication and support are key.
Or conversely, do you think kids need to be smothered with love to give them storehouse of good feelings with which to deal with the inevitable challenges of life in the real world?
Yuk! Loved and supported, yes. Smothered, no!