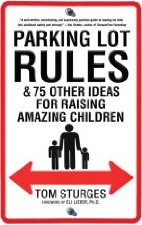 Tom Sturges has written a book on parenting Parking Lot Rules & 75 Other Ideas for Raising Amazing Children, which was released in hardcover by Ballantines/Random House last Father's Day. It is coming out in paperback this Father's Day.
He talks about his experiences:


What is the one thing you think parents should know about your work?

The underlying premise of my book and all my work with children is that it is impossible to respect a child too much. In all actions and interactions, fathers must show kindness and caring. No hitting, no yelling, ever. Smile when you see them. Say yes when they call out to you. These are the kinds of simple promises I recommend.
What are your feelings about the role of the father in child development?

The father can be a vital force in the life of his child or children. He can be the inspiration for a great and wonderful life –

or he can be the opposite. It is each father's choice individually. By showing complete respect for the child at all times, a father begins the journey with compassion and understanding of his role in his child's life.
What is the best thing dads can do in the raising of their children?

There are so many. But here are a few of the most important… Be there. Listen to what your children have to say. Show up to everything they invite you to. Pay attention to the details. You're your promises. When they make a mistake, forgive. Try your hardest every day to be a better father.
What is the biggest error dads can make in raising their children?

Underestimate the power they possess.
Is there one practical tip you'd suggest to dads?

Chapter 4: No Lost Children. Rule # 38 The John Elway Rule: Any time you are going someplace where your child could get lost, like an airport or a fair or a concert, dress him or her in the jersey of your favorite NFL player.


It's been said that the greatest regret aging men have is that they didn't spend more time with their kids. How do you feel about that statement?

I would like to be one of the greatest dads who ever lived,and that will only happen if I give have given them all that I have to

give of my time, respect, kindness, wisdom, forgiveness and passion. If I fail in that pursuit, I have failed in life.
Every generation worries that their kids aren't strong enough to handle the real world. Do you feel kids need to be "toughened up" by experiencing rough times?

The world is rough enough as it is, no reason to make it any worse. Tough love is not something I have ever seen work very well. Teaching your son to fear you is easy. Inspiring him to trust you is a very different challenge.