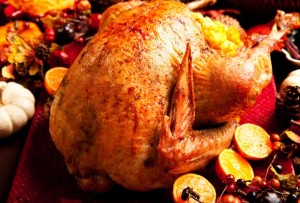 Thanksgiving is only a couple of weeks away, which means there isn't much time left to get your home ready for the big family dinner you'll be sharing on November 21. And while you're probably thinking about getting your house clean, putting up decorations and preparing a multi-course meal, your kids are probably looking for ways to contribute to the holiday mood as well. Here are a few fun craft projects for your children this Thanksgiving.
Cornucopia
Considering that much of Thanksgiving takes place around your dining room table, you'll want a festive centerpiece to tie the decor together. Help your little ones create a cornucopia – horn of plenty – to emphasize the holiday's harvest and feast appeal. You can pick up a wicker horn from a craft store and use balls of yarn and construction paper to create fake fruit and vegetables to place inside.
Thankful turkey
Thanksgiving is all about appreciating what you have. Your children can show what they're grateful for by designing a thankful turkey. Using construction paper and markers to design a cutout turkey, your kids can create a colorful tail made of individual pieces of paper. On each of the feathers, have your little ones write one thing they're thankful for this year.
Pilgrim hats
If you're looking to bring a little history into your Thanksgiving decor, pilgrim hats are the way to do it. All you need are markers, glue, cardboard and colorful construction paper to design an old-fashioned hat with a signature pilgrim buckle for kids to feel like they're eating at the very first Thanksgiving at Plymouth.