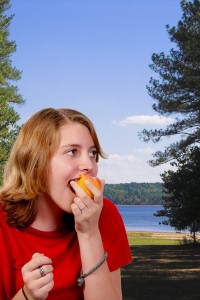 Thanks to Michelle Obama's MyPlate, us dads are learning more and more about the consequences of obesity at a young age. To keep our kids fit, experts tell us that we need to remove excess sugars and fats from their diet – which means that snack food may be the primary target of their wrath. Of course, it's probably unrealistic to believe that we can completely remove snacks from our children's diet, but there are some better choices you can offer them.
String cheese. Calcium is crucial for a young one's development. Keeping this in mind, string cheese is possibly one of the best inventions ever. Not only is it tasty, it's also incredibly fun for kids to peel apart.
Peanut butter. Protein is the building block for our bodies, meaning that kids need it for muscle growth. It's safe to say that most children love peanut butter, especially because it can be used for more than just a sandwich. Peanut butter bananas – or even a peanut butter cookie every once in a while – are great options.
Smoothies. We all know how beneficial vitamin C is for our body, but kids aren't always so easily convinced. To make the idea of fruit a little more appealing to children, we can introduce them to smoothies – which can often taste like flavored ice cream.