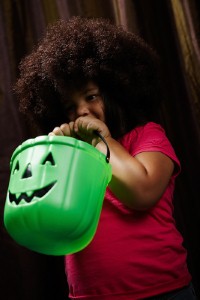 A recent report from the National Retail Federation found that Americans are expected to spend $5.8 billion on Halloween this year. The group says that fathers can expect to spend an average of about $66 on the holiday – $23 for a costume, $20 on candy and $18 on decorations. And, that number may increase if you have more than one child.
The good news is that celebrating Halloween doesn't have to break your budget.
When it comes to costumes, fathers can use a valuable piece of parenting advice: there's nothing wrong with hand-me-downs! Costumes used by older siblings, friends or family members are perfectly acceptable. Many communities even hold costume swaps this time of year to give parents an opportunity to bring an old costume and find a new one.
Dads can find hundreds of inexpensive, do-it-yourself costume ideas online. Re-purposing items you already have can make great costumes. These include sports uniforms, dress-up clothing, hats and masks.
Candy doesn't have to cost a lot either. Look for sales and use coupons, or buy in bulk to get the best price. Opting to give out non-candy items like pencils, small bags of popcorn or stickers can also be cheaper – and healthier – than candy.
Pumpkins, whether they're carved, painted or left plain, make great decorations. Shop around for the best prices or make a one-time investment in fake ones. Kids can also make other homemade decorations and dads can string white lights outside of the house or in the windows to get into the Halloween spirit.
Remember, post-holiday sales allow you to stock up on everything from costumes to décor items for next year, at a fraction of the price!