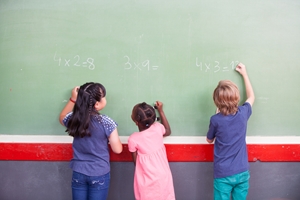 As soon as my baby girl started to smile, my mind started racing ahead toward college funds. School is important, and being in a good district was a big family planning decision when my wife and I moved where we did two years ago.
Choosing a school is so much more than test scores (although you should review those too!). Because my wife works in education, she knows what to look for . For those who don't happen to have a teacher in the house, here's a quick list of factors to consider.
Review test scores – Testing is only part of a school's performance. But you should still make sure you pay attention to how a school finishes compared to others in standardized testing. The Department of Education, and other sites such as GreatSchools, can help discerning parents see which areas are performing well, and which are not.
Check local sources – If you're looking to move into an area with a strong school district, be sure to take advantage of all the local resources you can find. First, ask your real estate agent for their recommendations. Agents get this question a lot, so they should have some familiarity.
Look up the local paper for news items about schools. Check old issues from August or September, and you'll likely find lots of stories about school budgets, and even about local elections regarding tax overrides. You can also check out websites, message boards, and Facebook pages for information on the local parent teacher association and other groups. These pages will help give more personal details about the issues facing the school.
Evaluate Public vs Private – Don't just assume that a private school is going to be better than a public school. Ask for their test data, and go on a tour of the facility. You also need to ask questions about their disciplinary policies, what activities are offered, and other things that go beyond the normal curriculum. If what you see doesn't stack up, then you don't need to spend the extra money on tuition.
Focus on technology – Many new testing protocols are intended to be taken online, so when you look at the facilities, pay special attention to the technology in place in classrooms and computer labs. Think about how much technology has changed during the past few years. If classroom computers still look like they did when YOU were in school, then there are some serious issues.
I could go on about every little detail you could check out about a school, but in the end, focus on whether you feel comfortable at the school as a father. If you're comfortable there, then odds are your child will too.