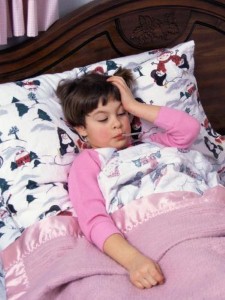 It happens to every parent at some time or another – your child gets sick and vomits in bed. Besides taking care of a sick child, fathers are often tasked with the most unpleasant job of cleaning the sheets, blankets, pillows and comforter and trying to rid them of all signs of the vomit. There are several parenting tips for cleaning up this awful mess.
The key is to get everything off of the bed as soon as possible and to start the cleaning process.
Before you actually tackle the smell, you must make sure all items are "chunk-free." The bathtub is a good place to dump everything and give it an initial rinse. You can clean up the leftover debris and do a good disinfecting job afterwards.
Laundry products like OxyClean can be added to the wash cycle to help boost the cleaning power of detergent. Baking soda is another good option to either add to the laundry or apply directly to stains as a pre-treater. Use the warmest water your fabrics can handle, too.
Items you probably already have in your pantry will also help get rid of the smell. Vinegar and dishwashing detergent are good options.
Some people recommend using products like Nature's Miracle, which is meant to clean up pet messes, to neutralize odors.
If this has never happened to you, consider yourself lucky. And, don't get too proud because it will. If your child is ill, make sure his or her bed is covered with a waterproof mattress pad to ensure the throw-up doesn't penetrate through to the mattress.