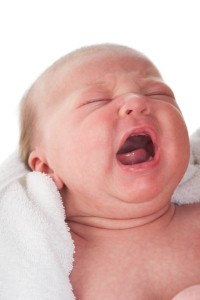 If you've ever been pushed to the brink of insanity by your little one's incessant crying, you're not alone. Many parents have struggled to find ways to calm a bawling baby, and pediatrician Dr. Harvey Karp believes he has found the solution. His book, The Happiest Baby on the Block, outlines the "5 S's System" to deal with a "colic" baby – a child who go through intense fits of crying. Here are some of his tips to keep in mind with your own infant.
Swaddling
To mimic the pressure and support of the womb, Karp recommends snugly swaddling a baby with continuous touching.
Side/stomach position
If your baby is experiencing indigestion, placing him on his left side can provide relief. Similarly, lying him down on his stomach can be reassuring in stressful times. However, be careful not to put your child to bed on his stomach – this may increase the odds of him falling victim to Sudden Infant Death Syndrome (SIDS).
Shushing
Believe it or not, the womb can be a very loud place with plenty of white noise. You can recreate this familiar sound by shushing. Believe it or not, it's louder than a vacuum cleaner inside there!
Swinging
Unless you were bed ridden for nine months, your child has gotten used to gently moving back and forth. You can swing or rock your infant to mimic this motion.
Sucking
Many infants have an oral fixation, and sucking provides a source of relief that is triggered deep within the child's nervous system.
Of course, the question remains – do the 5 S's work? Just type Karp's name into YouTube and you'll see scores of happy parents soothing their babies to sleep thanks to his trusted system. Having said that, there's internet chatter that it just isn't for everyone. Bottom line – it's worth a try if you, your partner and new addition have been struggling to get some shuteye and listening to your little one's wails all throughout the night.