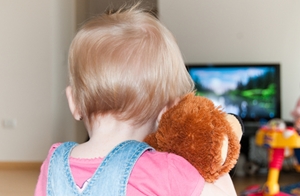 If you grew up with a father who wasn't very emotional, odds are you try to raise your sons the same way. After all, there's a strong cultural push for boys to be the strong, silent types. However, you might want to consider who your son is before raising him in some predetermined way.
Even if you were raised to be tough, you shouldn't tell your kid to "man up" when they're upset or in pain. Raising a sensitive boy means questioning things you thought you knew about yourself for the benefit of your kids.
Don't take things personally: Your kid's just trying to be who he is, not who you want him to be. Take a step back and ask yourself if you can put your prejudices aside.
Teach self-care: Many boys can get right back up after falling off a bike or scraping their knees, but more sensitive boys need to know when they've had enough. Teach your kid about walking away from situations he thinks are too dangerous.
Different is good: Believing in this yourself is key to getting along with your kid as he ages. You never have to understand everything about the choices your son makes, but teaching him that he doesn't have to be like everybody else will make it easier for both of you to get along.