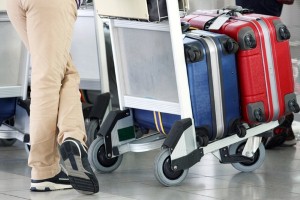 When you're the breadwinner in the household, you're going to be spending a lot of time at work – and not always at the office. Sometimes, your job will require you to hop in a car, on a train or on a plane and visit faraway cities and countries. And while traveling can be fun as a single man, it comes with a little extra baggage when you've got a family. How can you expect your hectic schedule to affect your marriage and kids?
A recent study at the Washington, D.C.-based World Bank Group found that "lengthy and frequent travel and frequent changes in travel dates which affect family plans … negatively affects many spouses and children (particularly young children)". Of course, some business travel is necessary for just about any working professional. Luckily, there are plenty of ways to balance your days on the road with your family life.
When you're away from home, be sure to check in frequently with your loved ones. Call your wife to remind her that you're thinking of her, and make sure to talk to the kids when they're home from school. Some working professionals even take their families with them on business trips, which may or may not be an option for you.
Either way, making sure to stay in touch with your family even while you're on the road can make all the difference.