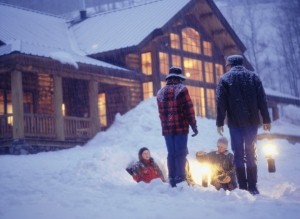 Thanksgiving is days away, and dates like Hanukkah, Christmas, Kwanzaa and New Year's Eve are quickly approaching, which means that pretty soon your whole family will be in gear for the holiday season. While there might be a lot of pressure on you and your spouse during this time of year, it's important to help everyone stay on top of good health habits, particularly your excitable little ones. Here are a few tips for staying healthy around the holidays.
Play in the snow!
With temperatures dropping and the days growing shorter, it can be tempting for kids to stay indoors where it's cozy and warm. However, keeping up with physical activity is important for burning calories, staying fit and boosting immune systems, so encourage your kids to get outside and play in the snow. Just make sure they bundle up in warm clothing to prevent sickness.
Watch the sweets
It's pretty much guaranteed that you're going to eat a lot of food this season, but you can help minimize the damage for your kids by limiting the desserts and sweets that they eat. A few cookies or a slice of pie on occasion is fine, but you should enforce a stricter policy in between holiday meals.
Beware of germs
Plenty of people get sick around the holidays, including members of your family. If there's an aunt or uncle who's coughing and sneezing during a family visit, try your best to limit your children's exposure to germs. Taking preventative care with a healthy diet, physical activity, plenty of rest and good hygiene habits can also decrease your little ones' risk.