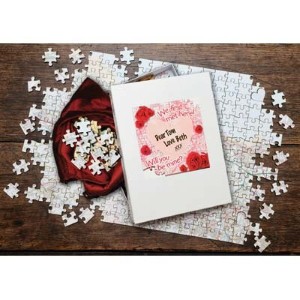 Between a busy work schedule, rushing the kids around to after-school activities and trying desperately to find a moment of peace and quiet in the house, it's no surprise that Valentine's Day sneaks up on many fathers. Even though you have the date February 14 in the back of your mind, those two weeks at the start of the month can fly by – leaving you and your children with little time to arrange a lovely evening for mom.
With little time to waste, you need to get cracking on gifts and dinner arrangements. Luckily, the internet can be your best friend in these dire Valentine's Day straits. While running down to the local convenience store to buy generic chocolates and a $5 bouquet of flowers is a bit tacky, classing up this traditional V-Day combo is sure to earn a smile from the mother of your children. Many websites offer rush delivery on gourmet chocolate samplers and exquisite flower arrangements right before February 14 for just this sort of occasion.
To accompany your gift of candy and flowers, consider putting together an album of those family photos you've had stored on your computer for years. If this sounds like a lengthy production, many convenience stores, supermarkets and retailers can transform your digital pictures into a lovely Valentine's Day gift in a short time. Combine these heartfelt gifts with some handmade Valentine's Day cards from your children and you'll be good to go. Wrap up everything in a gift basket and have your little ones surprise mom after work.
If your favorite restaurant is all booked up, head over to OpenTable.com, which allows you to search your area for last-minute reservations and great deals on every restaurant imaginable. Furthermore, you can read detailed reviews of the restaurant's service and menu to make sure it's a match for your family's tastes.
With some swift action and a little luck, you'll have a memorable Valentine's Day evening on your hands. Just try to do your best to plan ahead next year!