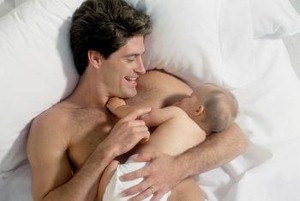 Married marines will soon be guaranteed to get 10 days of leave when their wife has a baby.
A new administrative message issued earlier this month states that any married male marine with a pregnant wife will be granted 10 consecutive days of paternity leave at their commander's discretion.
It guarantees that the time off will be permitted at some point within the first 25 days after the child is born, except in certain circumstances, such as a new deployment. In these cases, an alternative scenario for leave can be arranged.
Meanwhile, fathers who are adopting will receive up to 21 days of leave. The message advises commanders to give these men "the greatest latitude possible" due to "the complex and rigorous process of adopting a child."
The new guidelines also briefly touch on single parenting scenarios, stating that unmarried marines who have sole custody of a baby may be granted time off.
Although dads-to-be may be eager to take the opportunity to start bonding with their baby and developing their parenting skills, the message does not indicate when the new rules will come into effect.