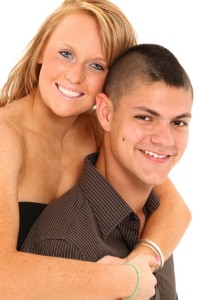 OK, your daughter is finally old enough to begin dating. Now comes the hard part – meeting her first boyfriend. While it may seem like a family sitcom staple, the disapproving dad stereotype is not without merit. As a father, it's strange to see your daughter romantically involved with a boy from school or someone she met through her social circles. Not only is your daughter growing up, but you're no longer the only man in her life. Furthermore, you want to make sure your daughter makes responsible choices about who she dates.
Sooner or later, you're going to have to meet this young man who's been calling her at all hours of the night. While your first instinct may be to scare him with not-so-subtle questions like "Do you enjoy hunting as much as I do?" or "Would you like to see some pictures from back in my wrestling days?" chances are this line of interrogation will cause your daughter to get upset. However, you should make some fair inquiries into his personal life to ensure he's a kind and respectful boyfriend worthy of your daughter's affection.
A great place to start is by asking him how he met your daughter – even if you've already heard her version. How the boyfriend recounts this story will reveal a lot about his personality and views of the relationship. You should also ask him a little about his own interests, studies in school, extracurricular activities and home life. Sensible answers can point to a promising match for your little girl.
Chances are your daughter would not be introducing her new boyfriend to you if he was a bad apple. However, it's your duty as a father to look out for her best interests without infringing on her autonomy as a young woman.