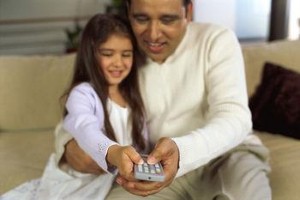 A number of fathers across the country are finding themselves single parenting for months at a time, as their wives or partners are sent overseas with the military.
An article in the Arizona Republic draws attention to the increasing number of dads who remain at home during their wives' deployment, using their parenting skills to handle the day-to-day tasks that so many people traditionally associate with moms.
For example, Phoenix-based dad Ray Taylor told the news provider that in the four months since his wife left for Iraq, he has mastered hair-braiding and doing the laundry. He said he has always enjoyed cooking and playing with his two daughters.
Taylor explained that he is comfortable with his role at home, explaining that "it's part of being in the military."
"It's kind of nice that I get to stay behind this time," he added.
Approximately 37 percent of female active-duty military personnel deployed to Afghanistan and Iraq over the past seven years have been mothers, according to the Department of Defense.
That means there is likely to be a number of fathers across the U.S. in the same position as Taylor. Those looking for some additional guidance may want to contact Military One Source, a DoD resource for military families.