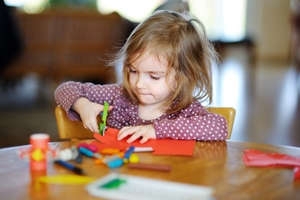 Mother's Day is coming… Did you lose track of it too?
If you haven't thought about what you are going to get for the lady in your life, you probably should- otherwise you'll be buying a half-dead bouquet of flowers from the gas station and hunting for a greeting card that doesn't congratulate the reader on their recent graduation.
If your kids are old enough to help, you should think about coming up with a gift idea that involves them. Why? Because on the cuteness scale, nothing tops your kids doing something nice for Mom. Here's a few ideas how you can team up to make this a Mother's Day to remember.
Check out Pinterest for Crafts – If you are looking for a craft-y gift from you and the kids, do yourself a favor and search on Pinterest. Trust me – there are millions of different ideas for all different levels of skill. Want to make an apron with all your handprints on it? Done. How about a handmade picture frame with a photo of all of you? Easy. Log on with your kids around and see what ideas they like.
Put a twist on traditional flowers – Flowers by themselves aren't a bad thing (I know my wife loves them), but they don't need to be relegated to a fallback plan. To make flowers a more unique gift, take your kids out shopping and buy some soil and flowers for planting. Let the kids pick the ones they like unless Mom has specific preferences (if you don't know this by now, figure it out). You should also try to go with perennials. They'll bloom every year, and when they do, they'll keep reminding her of her special day.
Go away and take the kids – Want to know what a lot of mothers would like? Time to themselves. So one way to make their day would be to get the kids and go away for at least 4-5 hours. That will give Mom some time to relax, take a deep breath, and enjoy herself away from all the stress of responsible parenting.
Make it a group affair – Do your wife's friends also have significant others who procrastinate for Mother's Day? Why not tag team the situation? Pick a nice restaurant and make lunch or dinner reservations for a full-on ladies outing. Give the restaurant a credit card to hold onto, and let the girls have a nice meal to themselves. At the same time, all the Dads can team up to handle babysitting duties.
Regardless of what you end up choosing as a Mother's Day gift, make it something personal, memorable and thoughtful.
What do you think? What are the best (and worst) Mother's Day gifts you've given?