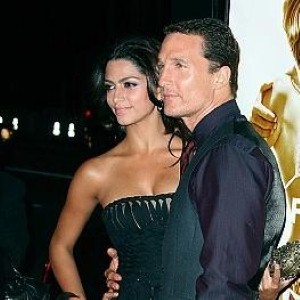 Actor Matthew McConaughey is just one of several celebrities who recently saw their families grow with the addition of a new baby.
McConaughey and his girlfriend Camila Alves welcomed daughter Vida Alves McConaughey on January 3rd. The healthy baby weighed in at 7 pounds, 7 ounces.
"Vida is Portuguese for life and that's what God gave us this morning," the actor blogged. "Camila's recovering wonderfully and we are both truly honored to welcome this little lady into our family. Thanks for all of your well wishes and prayers along the way, another blessed day, we give thanks."
Vida is the actor's second child with Alves. Big brother Levi is 17 months old.
Indy car driver and former Dancing with the Stars champ Helio Castroneves and his girlfriend Adriana Henao welcomed a daughter recently as well.
Daughter Mikaella was born on December 28th in Atlanta, weighing in at 7 pounds, 3 ounces. She is the first child for both and arrived one week ahead of her January 6th due date.
Black Crowes frontman Chris Robinson and his wife Allison Bridges are seeing pink with their family's newest member too.
"Cheyenne Genevieve Robinson, 6 pounds, 3 ounces, was born on Dec. 26, 2009 at the Robinsons' home in California," said the singer's rep.
Robinson has a son, Ryder, 6 years old, from his previous marriage to actress Kate Hudson.