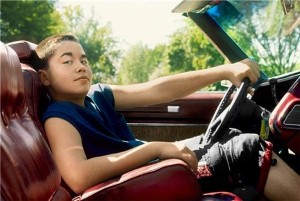 Dads worried about their teenage children getting behind the wheel for the first time may welcome a little technological support to reinforce their parenting skills.
Amid longstanding concern about the disproportionately high number of teenagers involved in car accidents, automaker Ford is set to launch new technology designed to promote safer driving behavior among first-time drivers.
MyKey boasts a range of smart features, including a handy chime to remind your maturing son or daughter to buckle up.
There's also a low-fuel warning which kicks in at 75 miles to empty – in case your children ignore your wise parenting advice and spend more time reveling in the novelty of driving than worrying about the fast reducing fuel gauge.
And there's a limited top speed of 80mph, denying your teen the temptation to put themselves and others at risk by flouting safe driving speeds.
Ford's Jim Buczkowski said MyKey – which will become available next year on the 2010 Focus coupe – resulted from the upgrading of an existing anti-theft technology.
He added that it will be spread across vehicle lines in a similar fashion to entertainment and communications system SYNC.