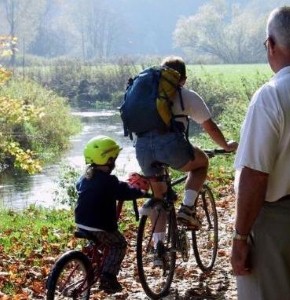 When it comes to setting – and reaching – goals, there may be no better role models than Olympic athletes. These men and women can inspire even regular people to take on new challenges and set impressive goals for themselves. The way that these top-notch athletes prepare for the Olympics may help fathers teach their children about working hard to accomplish some difficult and seemingly unattainable goals.
"The Olympics symbolize the chance for all of us to push the boundaries of human potential," said Chris Sebelski, assistant professor of physical therapy at Saint Louis University. "If you want to compete at a high level, mimic the strategies of those at the top."
Sebelski says parents can help their children reach new goals by breaking them down into smaller goals that seem more attainable along the way.
Dads can also help their kids by working with them to create a "team" to help them with their accomplishments. Talking to others with experience in a certain area or finding a mentor or training partner may help kids keep their motivation throughout the process.
Parents can help kids to remain mentally strong by offering support as well.
"Regardless of the scale of your goal, you should have the experience, at least once, of training for and accomplishing a physical goal you set for yourself. Crossing that finish line is a feeling unlike any other," says Sebelski.