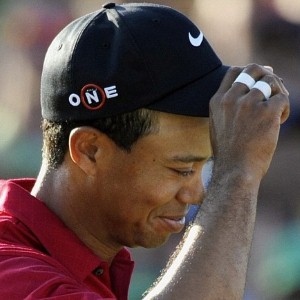 It's been just under a year since Tiger Woods crashed his Escalade near his Florida home, setting off a chain of events that exposed his numerous infidelities and indiscretions, effectively ending his marriage and sending his life into a downward spiral.
Despite his troubles on and off the golf course Woods has been making the rounds to media outlets, telling fans he is happier than ever thanks in large part to two people – his kids.
Tiger stopped by Mike & Mike in the Morning on Thursday to discuss his newfound serenity. He said that without a doubt, his two children, 3-year-old Sam and 1-year-old Charlie, are his top priority.
The 14-time major champion also took to the page and penned a piece for Newsweek about his new life, how he has healed from the car crash heard 'round the world, and his cherished time with his children.
"Giving my son, Charlie, a bath, for example, beats chipping another bucket of balls," he wrote. "Making mac and cheese for him and his sister, Sam, is better than dining in any restaurant."
Though some may characterize it as a cold, calculated PR move, it's tough to deny that Tiger is making a genuine effort to turn his life around.