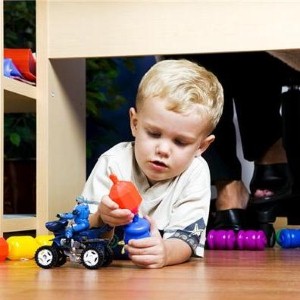 As Christmas approaches and gift-buying gets underway in earnest, a father's thoughts are often far removed from tragedy.
But new parenting advice from Cincinnati Children's Hospital Medical Center is quick to warn dads about the need to be vigilant when deciding which toys will go under the festive tree this year.
Stressing the importance of age-appropriate presents, Dr Michael Gittelman of the center urges parents to read the product warnings and labels on those toys they are thinking of buying for their little one.
Other factors for fathers to bear in mind to ensure a safer Christmas include the quality of the product's construction. Items with sharp edges and points should be avoided, and plastic wrappings must be quickly discarded from the floor following opening – in case of choking.
"Children under five years – and especially those under three years – are particularly vulnerable to airway obstruction due to small upper airways, inexperience with chewing and a natural tendency to put everything in their mouths," warns Gittelman.
According to the center, toy balls and latex balloons cause the greatest proportion of choking-related deaths.
It recommends play items such as crib gyms and activity quilts for infants under one, and nontoxic art supplies and toys for kids between three and five designed to develop their imagination.