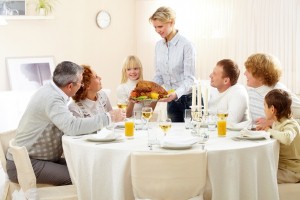 Although the holidays are a fun time for all, family gatherings and the prospect of presents can make for excitable children. The situation can be a tough one for dad's to handle, but luckily there are some tips that can make the season go more smoothly and result in happy kids.
Christmas is typically considered a time for giving, and experts say that fathers should lead by example. For instance, contributing to homeless shelters or volunteering at hospital can instill charitable habits in children.
A big part of the holidays is lots and lots of good food. However, experts say fathers should not let their kids over do it when it comes to sugary food, WebMD reports.
To ensure that the most wonderful time of the year is just that now, and in the future, consider starting a holiday tradition. Whether it is watching a special movie, baking cookies or going on a tour of Christmas lights throughout the neighborhood, it will give kids something to look forward to in the years to come.