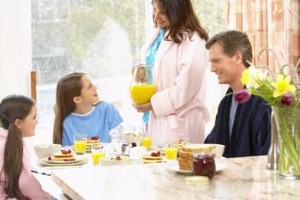 Making resolutions is a routine part of starting the new year for many fathers. But instead of resolving to exercise more, watch less television or eat healthier, some parenting experts suggest parents focus on their children and families as the year begins.
ParentingCounts.org, an organization dedicated to child development research, says one of the most important things fathers should do in the new year is to embrace their children's individuality. Dads should take some time to look at what makes each of their children special since it will help them to support and encourage their kids' growth and celebrate what makes them unique together.
Resolving to play more with your kids is an important parenting advice tip as well. Parents need to realize that playing is much more than just fun and games for children since it helps them learn about the world and practice new cognitive, emotional and social skills. It's also a way for dads to connect with their children and stimulate their curiosity and creativity.
Creating and sticking to a family routine in the new year is helpful as well. Kids thrive when they know what to expect so having specific routines for everything from getting ready and out the door in the morning to preparing for bedtime can make things go much more smoothly.
Most importantly, fathers should use the beginning of a new year to re-commit themselves to being a positive role model for their children.