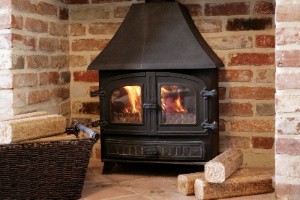 September is finally here, and while there's still a little bit of late-summer warmth left to enjoy, it won't be long before the cool, crisp autumn weather is here to stay. This time of year is the perfect time for fathers to bond with their children over Jack-o'-lantern carving, apple picking, hayrides and playing in the leaves. After a long day of fun outdoors, it's also great to warm up beside a roaring fire. Here are a few fireplace tips to teach your kids to keep them cozy and safe all season long.
No garbage, please
It might seem like good fun for kids to toss in crumpled up newspaper, paper airplanes or other garbage to burn in the fireplace, but it's best to limit your fire to wood only. Excess material, particularly garbage, can cause smoke to build up, which can leak back into your home and become a health concern.
Parental supervision
Most kids understand that they should never approach a fire too close or use their hands to touch anything nearby, but that may not stop them from wanting to help stoke the flames. If you feel that your kids are responsible enough, demonstrate how to use fireplace tools and then carefully help your little ones do it themselves.
No liquid fuel
Kids tend to get a thrill out of seeing a large, roaring fire, but under no circumstances should you use liquid lighter fluid to start your flame. This fuel can cause the fire to spread beyond the safe confines of your fireplace grate. Additionally, a fire that's too large can cause damage to your fireplace in the form of cracks and creosote buildup. Smaller fires are much safer and easier to manage.