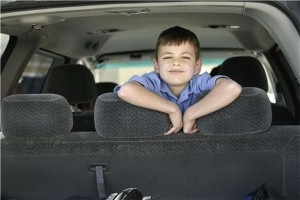 You hated them when you were little, and chances are your child hates them too – errands. For your children, there's nothing worse than spending the day riding along with parents cooped up in the back seat and traveling to a seemingly endless number of stores. This can be especially difficult for toddlers and young children who would much rather be playing with friends. While errands aren't exactly enjoyable for you either, sometimes dad has to hold down the fort while mom is busy elsewhere. Here are a number of guidelines that can help keep your trip peaceful and hassle-free.
Plan it right
Nobody likes getting bad news last minute, so give your children a little warning before you monopolize their day for the next few hours. If you have a toddler, try planning your trip around naptimes to avoid extra crankiness. Don't get too ambitious with your plans either – keep errands relatively brief or you'll have a troublesome child on your hands no matter what you do.
Keep them involved
With no friends around or games to play, your children are going to need something else to keep them occupied. Take a page from mom and provide alternative sources of entertainment for your children. Consider bringing along a favorite toy or stuffed animal to keep them busy while you shop. You can also involve children in shopping duties to make them feel needed and important to your trip. Bring along a calculator and ask them to add up all the item prices on your shopping list or have them be in charge of particular items like dairy or fruit.
Set the rules
Inform your child that bad behavior won't make your errands go any faster when setting down ground rules for the trip. Mom is great at emphasizing positive behavior and praising your children for helping or remaining calm. If you promise a small reward at the end of the trip like ice cream or a trip to the toy store, it can also make errands seem more worthwhile for children. However, let them know that any misbehaving will jeopardize their chances at a treat.