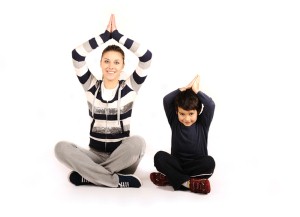 These days, it seems like if kids aren't absorbed with a marathon of TV shows, then they're off playing video games or surfing the internet for hours. If this sounds like your household on a Saturday afternoon, you may be looking for ways to get your little ones out of the house and into a more active lifestyle. Though it's not as traditional as little league or a dance class, yoga is becoming an increasingly popular way to help children engage their bodies and minds – all while having fun with their friends!
Stress management
It might not seem like kids have much to be stressed about, but even elementary school students deal with academic and social pressures on a regular basis. Whether your children may be anxious about an upcoming history exam or making friends in a new town, yogic breathing exercises and meditation have been shown to reduce stress levels in kids and adults alike.
Social vehicle
Just as playing soccer or taking a drawing class can be great ways for kids to expand their social horizons, yoga brings a sense of community and friendship to participants. It is for this reason that some schools and children's hospitals have made yoga a regular activity. Not only does this bring young people closer together, but it gives them the tools to behave in class and around adults.
Fun exercise
Let's face it – exercise can be unpleasant sometimes. However, the unique stretches and poses suited to kids' yoga are ideal for emphasizing physical activity in a new and fun way. Children can build motor skills, flexibility and strength while practicing simple exercises like the breath of joy pose or belly breathing – far more enjoyable than running laps or doing crunches.