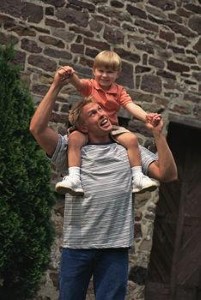 Today's fathers are spending more time with their kids and devoting more parenting skills to child care than their counterparts did 30 years ago, according to a new survey.
The study, conducted by the Families and Work Institute, reveals that more parents are breaking from the conventions of decades past.
Employed fathers reported spending approximately three hours per day with kids under the age of 13, up from two hours per day in 1977.
And younger dads are even more involved. Men under 29 years old said they currently spend 4.3 hours per day with their children. The poll did not explicitly address a difference between single parenting and co-parenting.
The institute also talked to women to gauge their feelings about their partners' roles. It found that 31 percent say their spouses take equal or greater responsibility for childcare, an increase from 21 percent in 1992.
However, balancing involved fatherhood and work commitments may come at a price. Some 45 percent of men said they feel a work-life conflict, compared with 34 percent who felt this way in 1977.