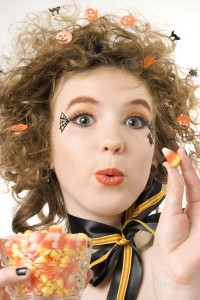 When your kids are little, picking out the perfect costume for trick-or-treating is often an enjoyable and easy occasion. But as your children grow up, chances are you might have a few concerns about their Halloween plans – especially when it comes to your teenage daughter's costume choice. If you're worried that your little girl's getup reveals too much, here are a few tips to help her tone down her garb while staying in the holiday spirit.
Don't overreact
As a father, your first response to a sexy, skimpy Halloween costume might be outrage or disgust, but you should make an effort to avoid these overreactions. Teens are prone to push limits and copy adult fashions, and you'll only encourage her rebellion by openly forbidding her to go out dressed that way. But that doesn't mean you should let her march out the door wearing next to nothing either.
Talk about oversexualization
You'd be surprised how well children can handle an open honest discussion from a concerned parent, and that's exactly what you should do in this type of scenario. Many teenage girls feel compelled to dress inappropriately on Halloween because oversexualization has become normalized in American youth culture. Talk about the implications of this attitude in respect to her own self image and relationship with her peers.
Work together for a compromise
Just because you don't want your daughter going out half naked on Halloween doesn't mean she can't look good in her costume. Work together to find a compromise on a costume. A witch or pirate costume can be just as attractive with a few more pieces of fabric in place.