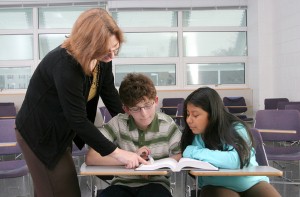 While every father hopes to see his child consistently earn straights As in the classroom, it's possible you might discover some less-than-stellar grades on a future report card. Recurrent Cs, Ds or those dreaded Fs could have you wondering what's going on with your son or daughter's academics. However, here are three knee-jerk reactions you should avoid in this situation.
1. Automatically punishing your child
It might upset you to find out your student failed a chemistry exam or English paper, but resist the urge to go into parental disciplinary mode before speaking with him or her first. Children can be under a lot of social, extracurricular and academic pressure in school, and a bad grade might just be a sign that they need a little extra attention. Automatically punishing your kids won't help them understand the material any better.
2. Blaming the teacher
Teachers are responsible for communicating class material effectively and helping students earn good marks, but that's only half the battle. Students are just as responsible for their own success in the classroom, so don't just lash out at his or her instructor. Academic achievement often requires teamwork between teachers and students as well as parental involvement.
3. Doing your child's homework
It's natural to want to see your child do well in school. While it's great to assist your son or daughter with studying for a test or completing a homework assignment, be careful you don't overstep your bounds. Your child may get an A, but he or she won't be able to learn and grow if you're doing all the work.