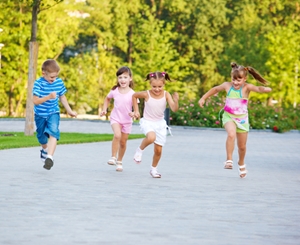 Recess is more than just a chance for kids to have fun during the school day– it's also important for helping kids get a daily dose of exercise outdoors. However, not all recess activities guarantee kids enough physical activity. Here are three playground games that are perfect for encouraging children to burn calories and build strength.
1. Jumping rope
No longer a gender-specific playground activity, jumping rope can become a major source of competition during recess. Requiring dexterity, stamina and coordination, many children are eager to prove their stuff during a jump rope competition. Introducing an extra rope spinning in a new direction for Double Dutch can also take this recess favorite to a whole new stage.
2. Kickball
Taking all the rules of baseball and putting them at ground-level, kickball is a fun team sport that's perfect for schoolyard blacktops. Not only do kids get a workout from running the bases, but kickball also helps practice skills like kicking, throwing and working together with teammates.
3. Footraces
Children are often eager to prove who is the best at something, and holding a footrace during recess is a great way to encourage friendly competition and exercise. While this doesn't need to be a true endurance test, consider setting up a short race course that winds through the playground to see who's the fastest in the class.