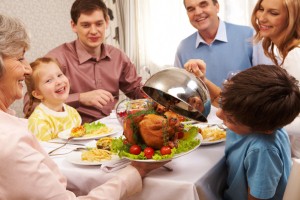 Thanksgiving is only a few weeks away, which means that your family is probably gearing up to host a large dinner complete with turkey, stuffing, mashed potatoes and pumpkin pie, among other delicious dishes. But you may also want to help your children push past the meal and learn what it really means to give thanks during the holiday season. Here are a few ways your children can help others in need this Thanksgiving.
Run a bake sale
Looking for a way to put your baking skills to good use? Grab the kids and help them organize a school bake sale to benefit a local homeless shelter, soup kitchen or disaster relief center. Through the selling power of brownies, cake, cookies and pie, you can encourage your little ones' classmates and families to contribute toward a good cause. Talk to school administrators about spearheading a bake sale with your children's classes.
Participate in Stuff-a-Bus
Many towns, schools and community organizations set up Stuff-a-Bus programs around the holidays for people to donate items to help the needy. Consider volunteering with your children to jam-pack a school bus with non-perishable foods, toys, warm clothing, toiletries and other basic needs. Stuff-a-Bus events are great ways to get kids involved with charity and emphasize a sense of teamwork and community.
Volunteer at a soup kitchen
If your kids want to get a little more hands-on with their efforts, you might want to head to a local soup kitchen to lend a helping hand on Thanksgiving. These organizations often have lines going out the door on Turkey Day, which means they need volunteers to pass out meals, stockpile food, clean up and direct visitors in an orderly fashion. Consider stopping by for a few hours before you enjoy your own family dinner that day.