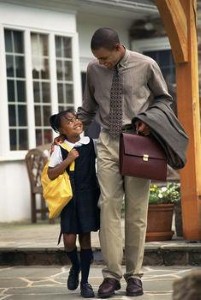 For dads who have girls, Valentine's Day is another chance to shower their there daughters with affection. But, sooner or later, some punk from school is going to come along and try to romance your little girl. As a father, it's your responsibility to do everything in your power to prevent this young romance from blossoming.
With that in mind, we've compiled a list of three ways to ruin Valentines Day for your daughter.
1. Become friends with her boyfriend. Sure, he reminds you of yourself when you were 15-years-old (which is troubling for several reasons). But, if you really want your daughter to lose interest, simply approve of him. We promise, his appeal will soon fade if you claim he's "great!" and ask him over to play some Wii. But, if this approach fails, a subtle "don't touch my daughter" nod will be appropriate.
2. Follow them on their date. You want to make sure there's no funny stuff going on while they're out to dinner? Tail them in the minivan, request a table right next to theirs, and suggest getting ice cream together on the way home.
3. Take her out yourself. If your daughter's upset that she doesn't have a date for Valentine's Day, there's only one way to make the situation worse: insist on taking her out yourself. While you may want to go a movie with your daughter just like old times, we promise that a Disney movie and twizzlers are no longer her idea of a fun night out.