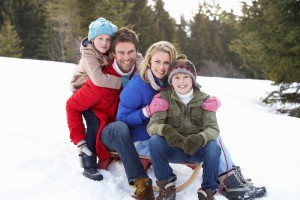 While the white snow and holiday decorations certainly make winter a beautiful season, it's also a time of year when you don't want to spend more time outdoors than you have to. Unfortunately, this also means that you might be letting kids play video games or watch TV inside more often than they should be – especially when exercise from playing outdoors is so important to their health and development. Here are three great wintertime activities you can use to encourage your little ones to head outside.
Sledding
If you can find a worthy, snow-covered hill near your home, then you have an entire afternoon of sledding fun in store for your family. While there isn't much exercise involved in the actual sledding part, your kids will get more than a workout lugging their toboggans and air tubes through the snow.
Building a snow fort
When it comes to classic winter activities, building a snow fort ranks at the top of the list. With some shovels, buckets and good imaginations, your children can create impressive structures out of snow mounds, complete with caverns, tunnels and hidden passageways.
Ice skating
You may discover that you have some aspiring figure skaters or hockey players in your family after a day spent ice skating. While you could head to an indoor rink, consider looking for any local ponds or lakes that have frozen over for an afternoon carving the ice in the great outdoors.