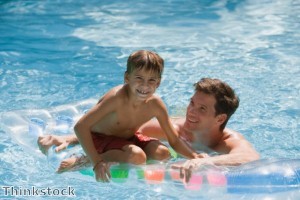 Unintentional injuries are the leading cause of death among children. Experts say the risk of these injuries increases during the summer months when families are spending more time outside at pools, on playgrounds and in neighborhoods.
"It's important for children to get outside, be active and enjoy the nice weather, but it's a parent's responsibility to know what their child is doing and to keep them safe," said Loyola University Chicago Stritch School of Medicine's Dr. Karen Judy.
When it comes to bicycle safety, Judy says dads should set a positive example for their kids by wearing a helmet themselves. In addition, fathers need to be tough with children who refuse or "forget" to wear a helmet with the message of "no helmet, no bike."
Kids also need protective gear, like helmets as well as knee, elbow and wrist pads for other activities including rollerblading, skateboarding and using a scooter.
Fathers need to make sure they're watching their kids while at playgrounds as well, since many younger children can be impulsive and unaware of the dangers associated with falling or jumping off of play equipment.
Adult supervision is necessary for all kids around water as well. Young children should be within an arm's length away around pools, lakes and piers, and everyone should wear lifejackets while boating, regardless of age.
"The importance of supervision can't be overstated. Serious injuries and even death can happen so quickly," said Dr. Judy.