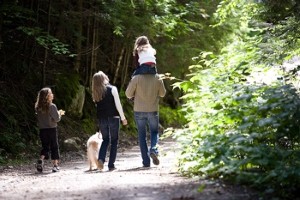 Many parents anxiously anticipate spring's arrival as a time to get their kids outside to play more often. In fact, the National Wildlife Federation, along with more than 200 health, conservation, youth, and other organizations, and 16,300 Americans are urging the surgeon general to make time outdoors a health priority for children.
A new study released by the Kaiser Family Foundation finds that daily media use among young kids and teens is up dramatically from five years ago. The average American child aged 8 to 18 now spends seven hours, 38 minutes each day plugged in. But there are things parents can do to ensure their kids are unplugging and connecting with nature.
For school-aged kids, experts suggest parents set up outdoor play dates with other kids at parks, zoos or nature centers.
Going on a discovery walk together and pointing out interesting things along the way is another tool to help kids appreciate the outdoors.
Purchasing a few inexpensive items like a bird feeder, magnifying glass and binoculars can provide hours of outdoor enjoyment for kids of all ages. Planting a tree or garden together, caring for it and watching it grow is another option.