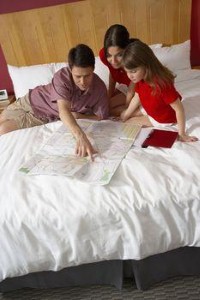 Summer is the time for family vacations. From trips to the beach, amusement parks and other tourist destinations, these times away with loved ones can help families bond and create long-lasting memories together. However, travelling with kids can present some safety challenges, when it comes to staying in a hotel or with a friend or relative.
Babble.com offers some parenting advice tips for keeping young kids both comfortable and safe away from home.
Fathers should check the rooms their kids will be using for any obvious safety hazards such as loose blinds or curtain cords, small objects, peeling paint and uncovered electrical outlets. Bringing along a few childproofing basics such as outlet covers, cabinet locks and a safety gate may be a good idea.
Experts say it's a good idea to bring your own portable crib to ensure the one offered by the hotel or your hosts isn't unsafe or has been recalled. If you're using someone else's crib, make sure the mattress fits inside snugly and that it's placed in a safe area away from windows, cords or other potentially dangerous items.
Bringing a baby monitor, night light and a few of your child's favorite toys may also help to make the vacation easier and safer.