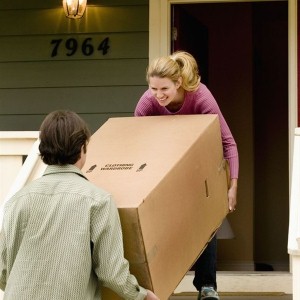 Moving can be an extremely stressful experience, especially for parents faced with the task of packing up their families' homes and relocating them somewhere else. While no one can deny that all of the planning, strategizing, organizing, packing and unpacking is time-consuming and potentially expensive, there are ways fathers can save money on this process.
When it comes to packing, staying on budget may be easier if you use recycled boxes. Ask friends and family if they have any they'd like to get rid of and then start inquiring at local businesses like grocery stores. Taking boxes from work may also be an option – just make sure to ask an office manager before helping yourself.
If you plan on hiring professional movers, make sure to get at least three in-person estimates.
Nancy Giehl, co-author of the book Organize, Pack, Move!: Strategies and Money-Saving Ideas to Simplify Your Move, told the website Mint.com that internet and phone bids are rarely accurate. "You cannot get an accurate bid if they can't see your stuff," she said.
Negotiating with the moving company is a great way to stay on budget as well. Dads may be able to save money if they can be flexible on their moving day or on the services they need. A mid-week move may be cheaper than a weekend move, for instance.
Renting or borrowing a truck and moving yourself is cost-effective but can be much more work than many people realize. Enlist the help of friends and family to lend a hand with the packing, heavy lifting or even just watching the kids.
No matter what type of move you choose, be prepared for extra costs like fuel, potential overtime and even pizza for your helpers!